TAR 30 : SHANE VAN BOENING vs. DARREN APPLETON
Pro9 proudly presents:
Another Fantastic Free Prize Give-Away!!!
Friday/Saturday(Sunday) 18,19(20) January 2013
...Another fantastic free-prize draw for Pool Fans!!!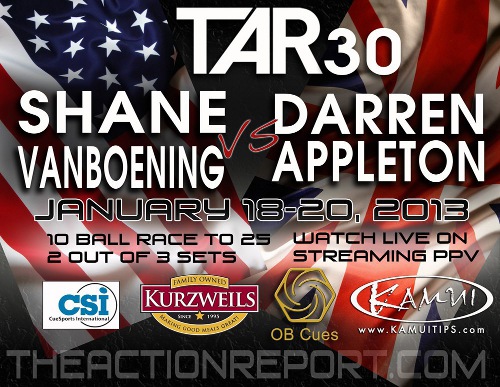 WIN A 3 DAY PAY-PER-VIEW PASS TO WATCH THE HOTTEST ACTION OF 2013!
TAR 30 is the most anticipated challenge match ever, featuring two of the greatest players in the world today going head to head in 10 ball action.
A race to 25, best of three sets, on
www.theactionreport.com
's notorious Diamond table with 4 1/8" pockets - Shane Van Boening has dominated the TAR table, but this is the distance and game that Darren Appleton likes playing most of all.
It's going to be intense, and you can win a free pay-per-view pass to watch the entire event - superb quality LIVE streaming direct from the TAR Studio in Las Vegas, and repeated again and again until the next day's play starts.
For your FREE chance to win this great prize, answer this simple question...
:::
Who do you think will win this match?
:::
There's no wrong answer - just respect our sponsor's generosity when claiming your entry, and you can clain an extra entry by sharing our TAR promo on Facebook too! Coming soon!
We'll be choosing the winner at the very last minute before the live stream starts on Friday, so make sure you keep an eye on Pro9's forums to see if you've won. Thanks for playing in our fun game - good luck!
P.S. If you want more of these free prize give-aways, please thank us by visiting the www.pro9.co.uk website regularly, and be sure to click and buy from our many sponsors/advertisers - that's how it all works you know? So visit www.theactionreport.com for more details.